January/February 1999
The mystery man on the cover appears in an old photo album purchased by Martin Venezky. In the album, the man is featured in a series of pictures,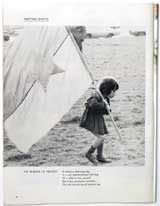 posing in his uniform, with family members and fellow servicemen, apparently shortly before departing for World War I. It's loosely related to Lisa Michaels' essay "Split" on the inside, in which she tells of her father's imprisonment for protesting the Vietnam War, and refers to her own appearance in Life magazine as a child at the time. The page from Life featuring Lisa is reproduced on the last page of the issue, and the cover is designed to be somewhat reminiscent of Life. Nobody got it.
Content
Interviews with magician Ricky Jay, poet Diane di Prima, film critic David Thomson and musician Michael Shelley.
Dirty Work: academia and pornography make strange bedfellows.
There Goes the Neighborhood: the dying days of one of America's last company towns.
"Your Own Backyard": fiction by Adam Johnson.
The Border Trilogy: the writing of Cormac McCarthy.
:::::::::::::::::::::::::::::::::::::::::::::::::::::::::::::::::::::