: MARTIN
I met with a business consultant and told her I was having trouble with Speak, that I didn't think I could do it anymore, that it was not a good office space for me. It was through her coaching that I finally told Dan that I was leaving the office, and suggested I might be leaving the magazine, too.

: DAN
He asked me to tell Elisabeth to be quiet in the office or he was going to leave. I took it as an ultimatum and basically refused. He got very angry and said, "So you're choosing your intern"—he always referred to her as my intern— "over your art director."

Original Speak sell sheet, used to solicit bookstore and newsstand orders.
: MARTIN
My issue was I was Dan's designer, had worked on however many issues, and was fairly valuable to the magazine. All I wanted him to do was to ask Elisabeth to be quiet.
: DAN
Martin said that I was favoring Elisabeth in not controlling the environment, but I was controlling it, to my own liking. Prior to Elisabeth, the office was quiet mainly because I never had any rapport with the people who worked there. But Elisabeth and I got along, we both talked a lot, and the environment was much healthier for me. And it was me who was paying the rent.
: MARTIN
Dan thought this was a good time to criticize the design. In my mind it was like he was saying, "I haven't liked anything you've done for me since the day you were born." At that point I saw my entire career collapsing.
: DAN
Martin would warn me that he had a difficult time controlling his temper, but I never saw it until this day. In the middle of the argument over Elisabeth, I voiced my dissatisfaction with the design and Martin's use of color. My timing was probably bad. It all disintegrated into a screaming match. Martin got very loud, his face turned red. It was scary.
I don't think we ever made up. Nobody apologized, nothing was ever resolved, except that Martin moved out. He assumed that if he left the office, I wouldn't want him to work on Speak anymore. But I thought it would be good for our relationship.
: MARTIN
To this day I still don't agree with the rationality of Dan's decision. But as it turned out, my leaving was the best thing because our relationship improved vastly. It became easier to show Dan ideas. When we were working together, there was always a time when he would look at layouts way too early. I could just see him getting nervous, and it got me nervous. When I worked alone I could always set the agenda of when I showed him things.
: ELISABETH
Despite all of this I think Martin is a great designer and produced some amazing layouts. Of course I wasn't allowed to say anything about them because Dan was so sensitive about previous employees who hated Martin's layouts. Sometimes I'd

If only Tomas had that kind of aim at darts.

even side with Martin, unbeknownst to him, against Dan.

: DAN
When Martin left it was like our parents had moved out. There was a Toys R Us a couple blocks from the office and we loaded up on guns that shot foam rings, plastic basketball hoops, lots of balls.

: TOMAS
Dan runs the office in a very loose, laid-back way. There have always been a variety of sponge balls. Long after Speak is gone there will be a small blue rubber ball lodged in the skylight. I managed to get it to land on this three-inch ledge, fifteen feet in the air.
Dusty, 1978-1997, the greatest cat in the world.
: DAN
There's a beanbag lobster that's been sitting on one of the hanging lights for years. Elisabeth gave it to me when my cat Dusty died and it became just another thing to throw around. I still think of him whenever I see it stuck up there.
: TOMAS
It was always cold in the office. We had space heaters, but we couldn't run more than one at the same time because they would blow out the fuses. Dan was very generous and would let me run mine most of the time.
: DAN
The first five times the fuses blew, I insisted it wasn't the space heaters. It said on the boxes that they used less electricity than a toaster. The computers kept shutting down, we kept losing our work, and I kept saying, "It can't be, they're just like toasters." Part of the reason we screwed around a lot was that it was so damn cold in there; it was dangerous to sit in one place for too long.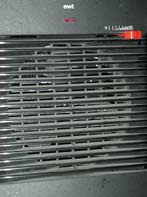 "They're just like toasters."
: TOMAS
The dart period was the high point of my work history, showing up around eleven, working until five or six, with a two-hour dart game in the middle.
: DAN
John sent us a dartboard for Christmas. We began having marathon games and became a little obsessed with it. When either Tomas or I was stuck on a piece of copy, darts provided an out. The other person was always in the middle of something, but I don't think either of us ever turned down a challenge.
: TOMAS
I would have to stop mid-throw every time the telephone rang and it inevitably would break my concentration. We probably produced some of our best issues during this time, so it wasn't a detrimental distraction.
: DAN
The phone would ring throughout these games. We'd have to pause to listen to the machine to hear if it was something we needed to answer. Of course it never was. Luckily we had three months to publish each magazine.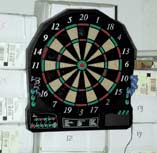 Speak's electronic dartboard had to be attached to cases of back issues to muffle the sound after neighbors complained.
: ELISABETH
The bat was annoying, especially when one person was hitting wadded up paper balls in the direction of the other person.
: DAN
We got a mini baseball bat from a record company tastefully promoting the rap group The Delinquents. I became quite the office nuisance with that thing.
: ELISABETH
I took it upon myself to call the publicist and get a second bat so we could at least hit things at each other. She was happy to send another one, but Dan was incredulous that I would call a publicist and ask for anything after he's spent his life dodging them.
: DAN
Because of all the publicist calls, we didn't answer the phones for six months. People who knew about this would expect us to pick up. Every message would begin, "Are you there? Dan?" Of course I was never anywhere else and always felt guilty when I didn't answer.
: TOMAS
Working in an office where we never answered the phones was somehow very Speak-like. Most of the messages were like, "I represent the high school honor society and we're having our model UN meeting and we'd like you to cover it."
: DAN
I had this rap for the publicists: "Sorry, we're an art and literary magazine, fiction, essays, no music reviews, no product or event coverage." One guy called to promote an Internet site and I gave him the typical spiel but he kept talking through me. I finally hung up and two seconds later the phone rang again. He said, "For a magazine called Speak, why the fuck don't you talk to me!" and slammed down the phone. A lot of these people seemed on the verge of a meltdown.
: TOMAS
The problem with letting the machine take messages is that we wasted so much time returning calls. I remember Dan having lists of thirty calls he needed to return and saying to me, "Can you handle these five?"
(con't) Oprah selected it, and she probably became a millionaire overnight >>